Pedal Your Butte Off!
Saturday, September 12, 2020
New for 2020, Pedal Your Butte Off! is a human-powered wheel event! Plans were to hold the event right in the Town of Crested Butte but will now be virtual and open to anyone around the world! This new event is specifically designed to raise awareness about mental health issues and suicide prevention by getting families, friends, and children living in our community involved.
Individuals, families, and groups can register as a participant, a donor, and/or a fundraiser.
ENTER
To enter and participate in Peddle Your Butte Off! as an entrant, you must:
1) Register as a Trekker or Pedaler here.
2) Donate in your name to get things rolling.
3) Invite your family, friends, and co-workers to make a 501(c)3 donation in your name.
4) Ride your human-powered wheeled device anywhere and any day you want.
5) Post your photo(s) and/or video(s) on our Facebook page!
6) Tell us your story!
7) Vote for your favorite entries. Everyone is invited and the most 👍 ❤️ wins!
ELIGIBILITY
Human-powered wheeled devices are just that—
• Anything with wheels*
• Must be human-powered, eco-friendly (no motors of any kind)
• Decorate yourself and your entry
• Mustache optional
Examples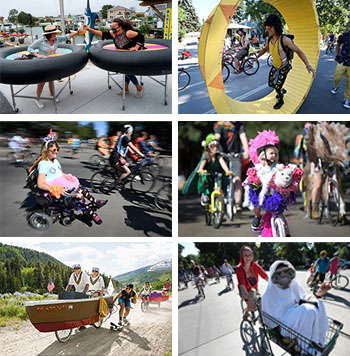 Some examples of wheeled devices could be: a bike, unicycle, rollerblades, tricycle, wagon, wheelbarrow, office chair, wheelchair, a bed with wheels, wheels on skis, any invention of your own with wheels as long as it's powered by a human—be creative!
DEADLINE
The deadline for all entries (posts to our Facebook page) is Midnight, Thursday, September 10, 2020
VIRTUAL AWARDS
Join us live online (TO BE ANNOUNCED) on Saturday, September 12, 2020 at 10am MST to recognize our sponsors, donors, and winning entries!